Press Release – Thursday, March 10, 2022
March 10, 2022: The steady growth of PV solar energy in Brazil has been making it more and more widely accessible. February 2022 alone has seen an 80% increase over the same period in 2021, says Brazil's Electric Energy Commercialization Chamber (CCEE). The renewable energy industry is especially strong in the Brazilian Northeast, whose high levels of solar irradiation make it perfect for PV investments. The region is the stage where a leading event in the solar energy calendar, the Intersolar Summit Brasil Nordeste, is to take place on April 27–28, at the Ceará Events Center, Fortaleza.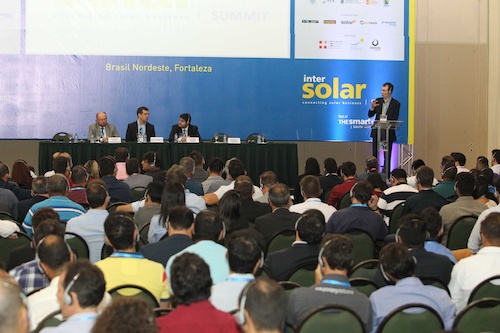 In the first six months of 2020, PV solar energy created more than 41,000 new jobs in spite of the economic strains caused by the Covid-19 pandemic. The period saw Brazil attracting new private investments totalling R$ 6.5 billion. Now the country is currently preparing a government-held energy auction next May that will greatly expand possibilities. These and other topics will be examined in the two-day Intersolar Summit Brasil Nordeste conference convening more than 300 delegates, 30 speakers and 50 top-tier exhibitors to talk about policies, legal challenges and regulatory frameworks, as well as funding and network integration solutions.
The Intersolar Summit Brasil Nordeste's mission is to provide in-depth information, promote high-quality networking opportunities, expand the use of PV technologies at regional and national levels, and strengthen the Brazilian PV sector. The event will happen together with the 11th RTI Internet Providers Conference and the 13th RTI Data Centers Conference. Both will include discussions on the importance of cost-effective and clean energy options for telecommunications providers and data centers, which need a quality, fail-safe power supply to guarantee the smooth running of their operations. As the density of servers and equipment that require cooling escalates, the power bill is often the single biggest expense in these facilities, making events like the Intersolar Summit Brasil Nordeste a must for consumers in the segment.
Other sessions will discuss solar PV energy in the state of Ceará, distributed and centralized generation of solar PV energy, energy storage, technology and innovation in hybrid generation, institutional aspects such as energy industry reform and the 2029 Ten-Year Energy Plan (PDE), Brazil's regulatory bill 482, and energy contracting, financing and insurance.
The complete program is available online at https://www.intersolar.net.br/summit-brasil-nordeste/program.
Organizers
The Intersolar Summit Brasil Nordeste is organized by Intersolar South America - Latin America's largest exhibition and conference for the solar industry: Solar Promotion International GmbH, Pforzheim, Freiburg Management and Marketing International GmbH (FMMI) and Aranda Eventos & Congressos Ltda, São Paulo.
Intersolar Summit Brasil Nordeste
Date: April 27 to 28, 2022
Venue: Centro de Eventos de Fortaleza
For more information on the Intersolar Summit Brasil Nordeste, please visit: www.intersolar.net.br/intersolar-summit-brasil-nordeste/overview
Sponsors
Follow us on Social Media:
Press Contact:
AD2M Engenharia de Comunicação
www.ad2m.com.br | (85) 3258.1001
Camila Grangeiro – camilagrangeiro@ad2m.com.br | +55 (85) 9.9659.6890
Waldirene Lisboa – waldirene@ad2m.com.br | +55 (85) 9.966957901
Mauro Costa – maurocosta@ad2m.com.br | (85) 9.8879.8474

CONTACT
Gioia Müller-Russo
Solar Promotion International GmbH
P.O. Box: 100 170, 75101 Pforzheim, Germany
Tel. +49 7231 58598-218 | Fax +49 7231 58598-28
mueller-russo@solarpromotion.com | www.solarpromotion.com