Intersolar Summit Brasil Nordeste 2022 debates the future of renewable energies and highlights the State of Ceará for its energy potential
Press Release – Monday, May 9, 2022
May 9, 2022: The event filled Fortaleza's Event Centre with 3 thousand participants, 30 conference sessions and 50 exhibiting companies.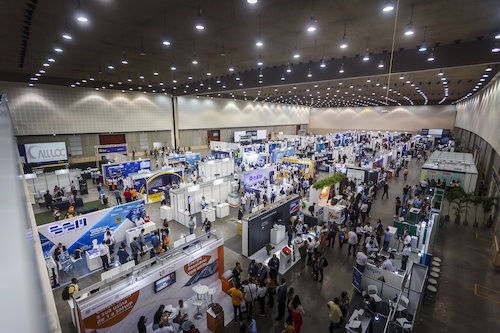 The Intersolar Summit Brasil Nordeste Conference came to a close in Fortaleza this Thursday. Its two days of lectures, debates and exhibits at Ceará's Event Centre generated business and networking opportunities for 3 thousand participants. Renewable energies such as PV solar and green hydrogen were the main topics addressed, not only because these have been heating up the market and promoting a diversification of the energy mix, but also because they are regarded as representing the main future contenders in the country's electricity sector.
The State of Ceará, which hosted this edition of the event, featured prominently in the Conference, starting with an keynote address by the head of SEDET's Initiative for Attracting Industrial Development, Sérgio Araújo de Sousa. The state currently has 21 solar parks in operation and 74 solar park projects under construction, representing a total investment of around R$ 15 billion. In the same session, Joaquim Rolim, who is FIEC's Energy Coordinator and President of CSEnergias/CE, presented an overview of trends and challenges for the renewable energy sector.
"Just as the world turns its attention to the energy shift, Ceará has been tracing an investment journey that emphasises new business development. Events such as Intersolar are a bridge through which we can promote our potential in the production chain and attract new development into our State, all within a sustainable and inclusive framework," declared Francisco Rabelo, president of Ceará's Development Agency (Adece).
A special session featured a debate between specialists and Ceará's Infrastructure Office Secretary for Energy and Telecommunications, Adão Linhares Muniz. Still on the event's first day (April 27), Joaquim Rolim, FIEC's Energy Coordinator and President of CSEnergias/CE, chaired a debate on distributed generation and the new Regulatory Framework.
The second day of the Summit (April 28) saw a debate among specialists on Hybrid Generation and Green Hydrogen, chaired by of Adece's Director of Infrastructure, Expedito Parente Jr. "Green hydrogen has enormous significance as a mechanism for expanding, diversifying and adding value to the wind and solar industry in Ceará and Brazil. Adding wind and solar together, we have the potential to generate nearly 1,000 gigawatts, but we currently have only 3 gigawatts, or 0.3%. So we need to take a leap in the right direction so as to use this potential more fully," declared Expedito.
Other topics debated by panels of prominent Brazilian and international electricity industry specialists during the Conference were Solar Photovoltaic Distributed Generation, Energy Costs in Brazil, and Power Storage in the Energy Shift. In all, more than 300 people attended the debates, which addressed technological, economic, political, legal and regulatory aspects of renewable energies.
For Iasmym Jorge, general manager of Meu Financiamento Solar, an Intersolar Summit Brasil Nordeste sponsor, the event prompts a great number of interactions between companies in the industry. "Opportunities like this are very important. They rally together entrepreneurs from our region, and indeed not only from Ceará but from the whole of the Northeast, and help companies like Meu Financiamento Solar get closer to them. The networking we see here not only helps us improve processes so that we can deliver better solutions, it also enlightens us about market developments," she says.
Intersolar Summit Brasil Nordeste was organised by Aranda Eventos & Congessos, Solar Promotion International GmbH, Pforzheim, and Freiburg Management and Marketing International GmbH (FMMI). The event gathered 50 exhibitors which included international players from several branches of the FV energy production and commercial chain.
Intersolar Summit Brasil Nordeste
Date: April 27 to 28, 2022
Venue: Centro de Eventos de Fortaleza
For more information on the Intersolar Summit Brasil Nordeste, please visit:
Sponsors
Follow us on Social Media:
Press Contact:
AD2M Engenharia de Comunicação
www.ad2m.com.br | (85) 3258.1001
Camila Grangeiro – camilagrangeiro@ad2m.com.br | +55 (85) 9.9659.6890
Waldirene Lisboa – waldirene@ad2m.com.br | +55 (85) 9.966957901
Mauro Costa – maurocosta@ad2m.com.br | (85) 9.8879.8474

CONTACT
Gioia Müller-Russo
Solar Promotion International GmbH
P.O. Box: 100 170, 75101 Pforzheim, Germany
Tel. +49 7231 58598-218 | Fax +49 7231 58598-28
mueller-russo@solarpromotion.com | www.solarpromotion.com